GRP Flat Roofing
What is GRP
GRP stands for 'Glass Reinforced Plastic' a material made from a polyester resin, which is reinforced by chopped strand mat glass fibres to form a GRP laminate. It is a very popular composite material to use because not only is it very strong but also surprisingly light. GRP has  developed and become one of the most widely used materials in the construction industry.
Today's GRP is far superior to that of the forties and fifties, although the principal is still the same – a durable, lightweight, flexible, fully reinforced and waterproof material capable of being moulded to any shape.
Designed as the ultimate in flat roof solutions, GRP glass fibre looks and behaves like a single, seamless sheet of material for over 25 years; it does not leak, rot, bubble, shrink or crack, but continues to look like it has just been installed for decades.
Ideal for any flat roof, from domestic house extensions to blocks of flats and industrial complexes, GRP fibreglass is fully BBA certified and designed to give your home or office waterproof protection for up to 50 years and it is also maintenance free.
Our GRP flat roofing systems combine a number of materials including OSB3 board decking, Topseal resin, fibreglass matting, Topseal durable topcoat and Topseal fibreglass preformed trims to create a roof that's not only tough and impact resistant but also attractive and pleasing to the eye.
It all starts with the bare ceiling joists and the attachment of quality 18mm OSB3 decking with insulation to help reduce heat loss or without insulation for a cold roof build up. Specially formed GRP edge trims are then fitted to finish the sides, also giving them strength.
A GRP Laminate, made up of the fibreglass matting and resin, this is designed to be very hard wearing and is bonded to the decking. A two layers of 450 csm (chop strand mat) is standard for roofs with very little or no foot traffic. If your roof will see a high level of foot traffic, like a balcony would then use two layers of 600csm Heavy Duty 600 csm will be recommended. The roof is then beautifully finished with a topcoat, dark grey is the standard and most popular topcoat colour but there are many other colour to chose from, this finishes your roof perfectly and your will now have a roof that is watertight for 25 years.
10 different colours to choose from
Non-slip finishing and walkways for safe access
Quick and safe installation
Suitable for roof gardens and Balustrades
Most importantly it comes with a 25 year guarantee for materials and workmanship
A 10-year insurance backed guarantee is also available (please ask for further details)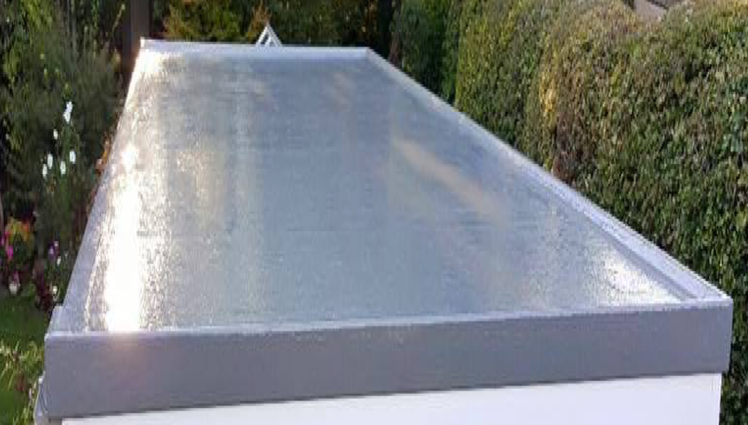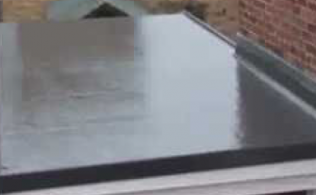 We use an Ultimate 5 Layer Roofing System TekSeal GRP fibreglass flat roofing materials on our installations.
4. 450g Chopped Strand Matting             

3, TekSeal High Grade Pure Resin        

2. 450g Chopped Strand Matting      

1. TekSeal High grade Pure Resin   

Tongue And Groove OSB 18mm Board

GRP Roofing is the best solution for a  flat roof that will last a lifetime!
We take a lot of pride in our flat roofing we are happy to travel all over  London  and surrounding areas. All our grp roofs come with a 25 year guarantee, if your roof is felt or asphalt, and needs replacing why not do it right and go for a fibreglass flat roof, they are seamless and look amazing when done right, so if you wont to have a new roof replacement then contact us today for your free fibreglass flat roofing quote.
We are Glass Reinforced Plastic (GRP) Flat Roofing  Specialist and we specialise in installing the highest quality GRP roofing systems at very competitive prices.